Okay real diet time here! Healthy, energizing and not high carb.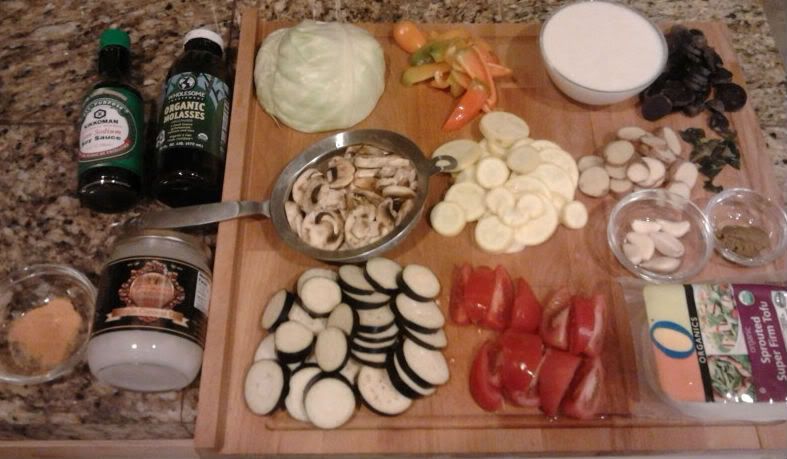 Tons of yummy here.
Cabbage (half a head)
Bell pepper
Can of
Pure Coconut Milk
Potato (I used purple and fingerling)
Curry leaves
5 cloves garlic (to taste)
Thai Kitchen Curry Paste
Squash
Mushroom
Eggplant (I used chinese)
Two tomatoes
Tofu, sprouted (if possible)
Tsp
Naturally Brewed Less Sodium Soy Sauce
Virgin Coconut Oil, Gold Label
(for frying)
Tsp
Wholesome Sweeteners Fair Trade Organic Molasses
Tsp
Turmeric
In a wok, fry crushed garlic with curry leaves. Do
not
"preheat" the coconut oil.
Add sliced potato and stir.
Add curry paste, soy sauce and molasses.
After a few minutes add bell pepper, squash and eggplant.
Stir well.
Drain the water off of tofu into the wok. Fry.
Add tofu, fry for 3-4 minutes.
Add mushroom and tomato.
Add coconut milk. Bring to a boil.
Add turmeric.
Serve with rice or the cabbage wraps.
Served (with peanut chutney)! For my family they ate it with brown rice.