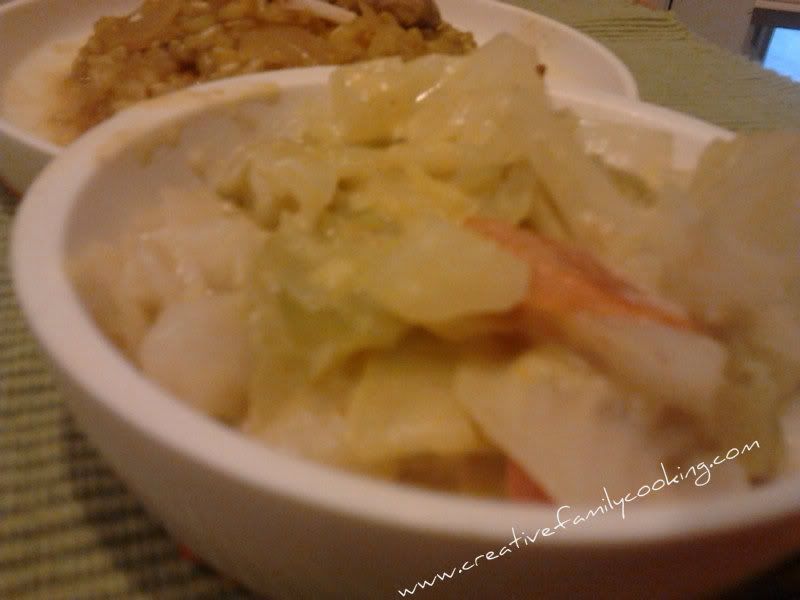 Ingredients
Organic Extra Virgin Coconut Oil
for frying (do not preheat)
1 small white onion sliced
6 oz (small can) of coconut milk
6-8 grape tomatoes or 1 diced large tomato
Mustard Seeds
Dash of
Hing (asafetida)
1 tsp
Turmeric
1 small head cabbage
1 tbsp chili powder
2 tbsp ginger garlic paste (you can make your own in a food processor/bullet)
Instructions
In a pan, add oil, followed by mustard seeds. When the mustard seeds pop, sprinkle hing and stir.

Add chili powder and stir.
Add ginger-garlic paste. Stir.

Add onion. Stir well. When you have a consistent paste and onion is becoming translucent, add coconut milk. The coconut milk should be stirred well to prevent burning. It will thicken with the heat. Add diced cabbage. Stir to combine And cover. Stir every few minutes and add a dash of water if necessary (I use the coconut milk can to get the excess coconut milk there).
Bring to a boil and turn to low. Cook for 10 minutes. Salt if necessary.
Served with
mango/apricot rice
.